LAST UPDATED: NOVEMBER 1, 1999
=====================================================================
! NEWS FLASH !
The new volume 6 of the
Consumer's Guide
is now available! Will be published online SOON!

****
Temp Workers Alliance has
named a new President!
=====================================================================


November 1998

Volume 5
includes the January 1999 New Year Update

** Newly Expanded to Include 32 Temp
Agencies

66 Reports on Other Temp Agencies **

Online Edition

Best Viewed with Internet Explorer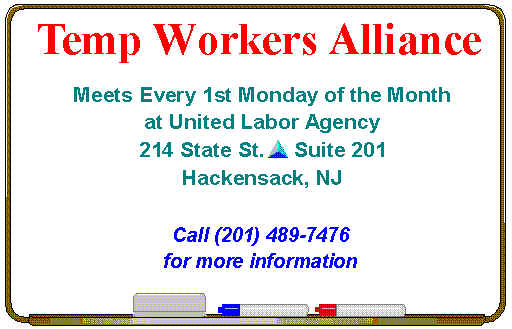 Purpose
To build toward real solutions to the problems faced by temp workers, we conduct research, disseminate information, educate the public, provide direct assistance when possible, advocate for higher standards, and collaborate with any groups sharing our goals.
Our initial stragety since 1997 is to provide job seekers with information on "best practices" temp agencies so they can make informed choices. In doing so, we are forming strategic alliances with those agencies as a means of protecting temp workers' rights in this rapidly growing industry.
By attending the Temp Workers Alliance (first Mondays at 5:30 pm in Hackensack), you can share experiences with other temps. By consulting our Black Book of over 100 reports on temp agencies, you can learn how the agencies (regardless whether or not they meet "Best Practices" criteria) treat workers and learn what type of assignments they have available.
Criteria for "Best Practices" Agencies
| | |
| --- | --- |
| | Responded positively to Principles of Fair Conduct for Temporary Employment Agencies |
| | Have no unresolved complaints against them at Better Business Bureaus; NJ or County Department of Consumer Affairs; NJ Division of Civil Rights; NJ Department of Labor Wage and Hours; and Disability Court |
| | Registered with the NJ Department of Consumer Affairs |